Hanging Favors and Placecards at the welcome table
Favors with coordinating ribbons
Rose gold pomegranate charms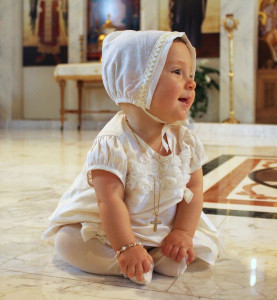 Photo of baby Zoi by Amber Weir
Olive branches, red pomegranates, pink and red garden roses…all of baby Zoi's event design elements were natural and put together to create a girly picture perfect event!  The event took place at Andiamo's with beautiful views of the Detroit riverfront.
We kicked off the event with the welcome table filled with the hanging favors of traditional Jordan Alomonds, wrapped in layers of tulle and coordinating hanging ribbons with pomegranate charms and place cards.  From there, tapper candles were used throughout the room with gold candle holders and small clusters of floral.  Vintage brass candle holders were found throughout the honor table and vintage like vases filled with red and pink roses.  The natural green runner was made of fresh eucalyptus and olive branches.
The tables around the room were all a bit different with the same idea in mind, all with fresh pomegranate fruit!  The combination of mercury vases, glass vases and candle holders added to the overall eclectic and natural event design.  All the table numbers were attached to little bottles filled with olive oil and had ribbon details.
The cake, designed by the talented Love & Buttercream bakery chef, Brooke was just PERFECT!  The sugar pomegranate on top and the whole cake itself was too beautiful to eat, but trust me, it was delicious!
The guest of honor was a perfect lady throughout her whole Baptism service and smiled throughout the reception and only took a little bit of nap to regroup:)  Wishing baby Zoi congratulations on her special day and a big thank you to our friends Eleni and Nick for having us!  Have a great weekend everyone!
xoxo,
Team Limani
Vendor Love: Event Location Andiamo Event Design, place card printing, Favors and Floral by Limani Designs Cake by Love and Buttercream Photograpphy by Peggy